PPC Google Ads for Flight Booking | Travel | Airlines & Aviation Calls
PPC Google Ads for Flight Booking – Want to instantly increase the sale of your Flight Booking, airline, tour and travel, and Aviation company? If so, you should implement pay-per-click (PPC) marketing for Flight Booking, Airlines, travel and tourism, and Aviation websites. So that you can get business right away. By having your website listed in the top three positions in Google's paid advertisement area.
PPC stands for pay-per-click marketing, which is used by the majority of digital marketing companies to provide immediate business. However, the Pal Digital Media team is not only known for providing the best Google Ad Words for flight booking, airlines and aviation, travel, and tourism businesses. But also for implementing online travel and flight booking. Then we assist you in putting it into action.
You can't ignore Pal Digital Media when it comes to running pay-per-click (PPC) Google advertising campaigns for flight booking, airlines, and aviation, the travel industry, and tourism websites. We are a team of Bing-certified professionals and Google Ads. Who is known for running result-oriented PPC (Google Ads) campaigns for airlines & aviation, travel, and tourism websites? And has high conversion rates.
For more information, you can contact our PPC experts via Skype at @ppc.tiger or by phone at +919815770276.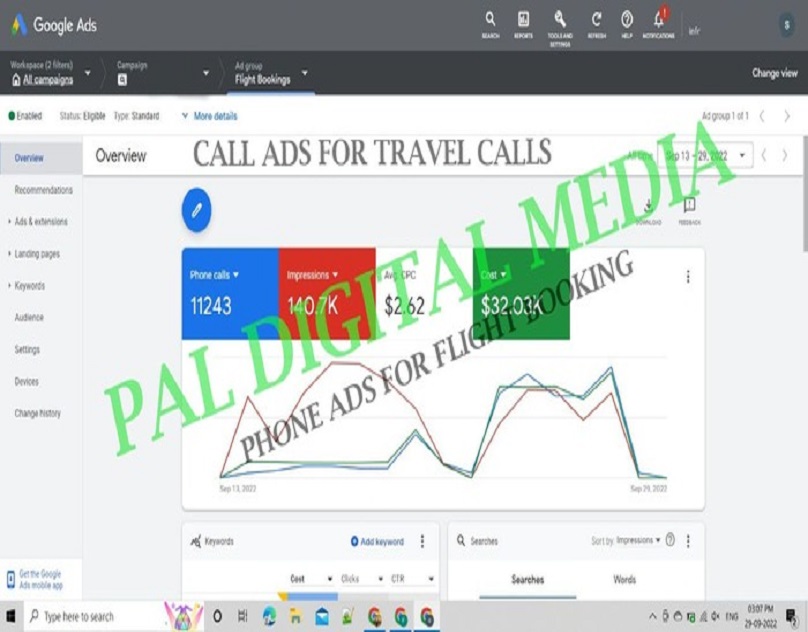 The Advantages of Using PPC Marketing on Travel and Tourism Websites
Making a digital presence for any type of business is essential in today's internet-driven world. SEO is the best option if you want long-term results in business. However, if you want to get business quickly, you should use Google Ads (PPC) for tour and travel, airlines and aviation, and flight booking websites. Following the implementation of PPC advertising in the tour and travel industry, you can reap several benefits, which are detailed below:
You can instantly expand the reach of your travel and tourism website to millions of customers.
You can specify the area where you want to advertise based on your business's reach.
Instant business branding.
You can also generate sales right away.
You can choose your own target market.
Our Travel Website PPC Way
There are various numbers of marketing firms in Chandigarh and throughout India. Which offers PPC management for travel & airline websites? However, Pal Digital Media has a distinct process for running PPC Google ads. Following are the steps for running PPC Google ads on travel and airlines websites:
Prior to running pay-per-click (PPC) ad campaigns for the airlines and aviation, tour, and travel industries. Our team conducts all business-related research, such as keyword research and competitor analysis.
Following the completion of the research, our PPC strategists and experts create a comprehensive PPC Google ads marketing strategy.
When expert PPC Google ads strategists create a comprehensive PPC Google advertising strategy. Then our PPC Google Ads experts begin creating campaigns, ad copies, ad groups, and so on.
After all campaigns have been created, you will receive login information. In order for you to add your credit card. Following that, we can create a daily budget based on your preferences.
Your ads will then go live. However, this is not an option.
After your ads go live, our PPC analysts will check them on a regular basis and optimize them to maximize their effectiveness.
Our PPC experts perform landing page A/B testing and campaign A/B testing after 30 days. In order to improve ad performance.
Flight Booking Inbound Travel Flight Booking Calls (PPC Google Ads for Flight Booking)
United Airlines Booking Calls – We offer and deliver hot and last-minute travel discounts on booking calls for United Airlines flights.
Delta Airlines Booking Calls – We offer 100% real calls as well as travel booking campaigns through which you can create n numbers of calls for your company.
How to Generate Flights Booking Calls from USA, UK Market through PPC Google Ads
Do you need inbound calls for airlines in the United States? Delta, United, Southwest, and Spirit Airlines all require assistance in generating inbound calls. Inbound calls from the US, Canada, and the UK are required. Required Spanish Travel sales Google Campaign Calls.
Since 2011, Pal Digital Media has been assisting businesses in generating inbound calls for Travel call centers. Generate more travel paid leads and travel inbound calls from PPC. We specialize in providing inbound calls for Delta Airlines, United Airlines, and all types of Mixed Airlines. And International Flights Booking Calls and Leads – Airline Booking Running Google Ads Campaign, Bing Ads Campaign.
Define your target market (PPC Google Ads for Flight Booking):
You must understand who your target audience is. In this scenario, your PPC Google Ads campaign will target people in the US and the UK who are interested in flight booking, travel, airlines, and aviation calls.
Select the appropriate keywords:
Keywords are essential in any PPC Google Ads campaign. Choose the most connected keywords to flight booking and travel calls that are relevant to your target audience. To find the best keywords for your PPC Google Ads campaign, use Google's Keyword Planner.
Create your Google Ads:
Once you've determined your keywords, you may establish your PPC Google Ads campaign. Text ads, display ads, and video ads can all be created. Make your Ads stand out by including a call to action, like "Book Your Flight Today!"
Optimize your campaign (PPC Google Ads Campaign for Flight Booking):
You may wish to adjust your Google advertisements or keywords based on the outcomes of your PPC Google Ads campaign. This is called optimization, and the word optimization is a continuous process that ensures your Ads campaign is working optimally.
How do we get inbound calls?
To generate calls, we use Google Ads.
We will set up a Google Ads campaign for you.
Improve the inbound call campaign.
Generate calls while spending the least amount of money on advertising.
To Begin with Google Ads. How?
Google allows you to target 90% of your audience.
Create web search or call-only advertisements.
Set up the proper bid strategy.
Optimize your website's keywords
Ad copy and extensions should be optimized.
How we can assist in PPC Google Ads for Flight Booking
Team of experts
Over ten years of experience in the same industry
Dedicated Ads Campaigns Increase Conversions with Less Ad Spend
Service that is simple and inexpensive
It is difficult to generate inbound calls for US-based airlines because Google Ads policy changes on a regular basis. Before beginning campaigns, it is critical to adhere to all Google Ads policies. With our team of experts managing more than 30 campaigns on any given day. We are well-versed in all policies and know how to get you the results you seek.
Contact Pal Digital Media today to get started with a dedicated team of experts working for your success. Start a Whatsapp chat with us or call us at 919815770276 any time.
Lead Generation for Flight Ticket Booking & Airlines and Aviation & Tour and Travel by SEO and other Paid Marketing.
Search Engine Optimization (SEO) and Paid Marketing can both be used to generate leads for flight ticket booking and travel companies. SEO is the process of optimizing a website and its content to rank better on search engines such as Google. This can be accomplished through keyword research and the creation of valuable content. And the enhancement of website structure and user experience.
SEO can assist in driving organic traffic to a website, resulting in potential clients interested in booking flights. And on the other hand, Paid marketing is purchasing advertisements on search engines, social media platforms, and other websites.
These Ads include PPC (pay-per-click) Ads, display ads, and social media ads. Paid marketing can be used to reach a larger audience quickly. And can be targeted for Flight Ticket Booking, airlines and aviation, & tours and travel. Both SEO and Paid Marketing can help in generating leads for flight ticket purchasing, airlines and aviation, & tours and travel businesses.
However, the most effective technique will be determined by the company's specific goals and resources. A comprehensive digital marketing plan that encompasses SEO and Paid Marketing can help in maximizing lead generation efforts.
(PPC Google Ads for Flight Booking) How to Generate Airlines Flights Booking Calls
How do I generate inbound calls for Tour and Travel, Flight Booking, Airlines & Aviation Business? To generate flight booking, travel, airlines & aviation calls, we have two options listed below:
PPC (Pay-per-click) – (Using PPC campaigns, you can generate more than 500+ organic calls per day) (Through Pay-per-click Google Ads, Yahoo Gemini, and Bing ads-only).
Search Engine Optimization (SEO) – 100% promised organic calls of 50 or more per day
Good organic calls always result in an increase in revenue and sales. Targeting the total searchable keywords regarding your content in SEO is a difficult task, but it usually can be possible or you can say easy with PPC and other paid marketing.
PPC Google Ads Services for Airlines Flight Booking Calls
We provide PPC (Pay-per-click) Google Ads services for airlines & aviation, and flight booking industries and we are here to assist them in generating a huge number of organic calls from Google, Bing, and Yahoo (top search engines). And Call-only ads for flight bookings. Set up the PPC campaign to be started and stopped according to Flight Courtier's specific schedule. Focus the PPC campaign on specific routes, keywords, and airline brands
For PPC Google Ads Flight Booking, Travel, Airlines & Aviation Calls, call +919815770276.
We are already working on 50+ Flight Booking and Air Ticketing (SEO) Search Engine Optimization Projects and generate 100 to 300 calls per day. Currently book flights from the United States to India with Delta Airlines and United Airlines, as well as last-minute deals and low-cost air ticketing. We currently are working with United Airlines and Delta Airlines to book direct flights from the (United States) US to India.
For generating calls (Inbound) for Tour and Travel, flight bookings, you'll need the following:
Lead Generation for Flight Ticket Booking & Tour and Travel by SEO, Paid Marketing.
Purchase a Domain (godaddy.com) and a Web hosting server (hostinger.com).
A web page;
A Google Adwords or Bing Ads or Yahoo Gemini account is required
Gateway for Payment
Card Payment
The website's landing page
Phone Number (Toll-Free)
Configure the API
Lead Generation of International Flight Ticket Booking Calls from PPC Google Ads & other Paid Marketing platforms
PPC Google Ads for Flight Booking
PPC Google Ads is a popular lead-generating platform since it provides a low-cost approach to reach a wide audience. This platform uses a PPC (pay-per-click) approach, which means you only have to pay at the time when someone clicks on your ads. You can use AdWords to build targeted advertising that reaches customers looking for international flight booking ticket possibilities. You may also target specific key phrases, geographic places, and even certain times of day, which make it easier to reach your target audience.
Social media marketing
Social Media Marketing is another powerful lead-generation platform. Facebook, Twitter, and LinkedIn, for example, provide a variety of advertising alternatives that allow you to target your specific audience. These platforms also allow you to retarget visitors who previously interacted with your content or website. This makes it easy to keep your brand top-of-mind and enhances the likelihood of visitors becoming customers.
Email Marketing
In the international flight ticket booking industry, email marketing is also a powerful lead generation technique. This requires sending emails to prospective clients who have expressed an interest in your Delta Airlines, American Airlines, United Airlines, Southwest Airlines, and other flight bookings. A newsletter, promotional offers, or any other relevant content can be included. Email marketing, with the correct targeting and messaging, may help you reach a broad audience and turn leads into customers.
Display Marketing
Display Marketing is another paid marketing platform. This marketing strategy requires placing banner ads on flight air ticket websites, airlines, and aviation, & tour and travel blogs that your target demographic is likely to visit your site. This lets you access a big flight ticket booking audience, and you can also target certain geographic locations and interests such as the United States, United Kingdom, Canada, India, Australia, and New Zealand to boost your chances of getting relevant travel leads.
We Are Experts at Generating Air Ticketing Leads:
We are a team of highly qualified specialists with huge experience in developing advanced Adwords campaigns (Google).
We take Google's policy very seriously.
Always makes a link between the website or landing page and the ad copy.
We also manage the Ad Accounts to keep the quality score high.
Ad Campaign is designed in such a way that you will undoubtedly receive quality calls.
Our outstanding campaign structure and solid relevancy website with high conversion targeted keywords have resulted in a conversion rate of more than 90%.
We also strive to provide 100% organic results with our best SEO upgrades.
We have approximately 10 years of experience in online marketing – Pay Per Click and SEO.
We are headquartered in Chandigarh, India.
You'll undoubtedly feel at ease as we handle our clients in a nice manner to help them achieve their goals.
Relax and know that your job is in good hands. Because we are experienced specialists.
Why Choose Pal Digital Media as Your Tour and Travel PPC Company? (PPC Google Ads for Flight Booking)
The following are the primary reasons for selecting our PPC Company to manage and run your pay-per-click advertising campaigns for flight booking, travel, airlines & aviation websites:
Experienced & Google Ads Certified team with over 6 years of running Meta Calls/PPC calls campaigns.
Well-reputed for delivering excellent results on time.
Master in optimizing PPC Google Ads campaigns to achieve a quality score of 10/10.
Reduce per-click cost and the per-acquisition cost.
Master in optimizing landing pages for maximum relevancy.
Pal Digital Media (Travel sales Consultant) operates with complete transparency and with a proven past track record of providing the best PPC Google Ads services for the travel industry. We offer our services for Google campaign calls in cities such as.
As a result, you are able to get the best ROI from your flight booking, tour and travel, airlines, and aviation PPC advertising campaigns. Then contact us using the information provided below and request the best pay-per-click (PPC) management services. We are the best Travel PPC Campaign | Meta Campaign Expert in India.
We are here to help you with related queries for PPC Google Ads for Flight Booking:
How to Generate Flights Booking Calls in 2023?
To generate inbound calls for Flights Booking. How?
How To Check ROI and PPC for Your Website & Create The Best Campaign?
Do you generate leads through PPC for Travel? How?
How To Implement PPC Formula for best airlines flight booking calls results?
Can I run Flight Booking Pay Per Call Offers Using Google Ads?